Do you want to travel the world? Being a part of the Sunsail Yacht Ownership program means having access to some of the best-sailing destinations on the globe. Regardless of where your yacht is located, you can sail your yacht, or ANY yacht of a similar size anywhere within the fleet at no cost whatsoever! There are around 1500 yachts in more than 15 worldwide bases. Pick your favorite and let's sail away! Today, we'll be taking you to see the sparkling views St. Lucia has to offer.
St. Lucia
St. Lucia is a destination of tranquility and beauty and is considered 'The Jewel of the Windwards.' St. Lucia has a landscape full of banana plantations, magnificent harbors and an abundance of flora including wild orchids and giant ferns. Lush rain forests, sparkling waterfalls, soaring peaks and hidden beaches surround you in perfect harmony. There are plenty of sightseeing opportunities on land while hiking, shopping or even catching a bite to eat at a shore-front restaurant. The Windward Islands has a north-south orientation – meaning the winds will be on the beam most of the time when sailing south. If you like fast cruising on the longer passages between some islands, this type of wind is ideal! The temperature ranges from 65°F to 85°F December through May and 75°F to 95°F June through November. The best time to visit for weather is during the winter months for a cooler breeze.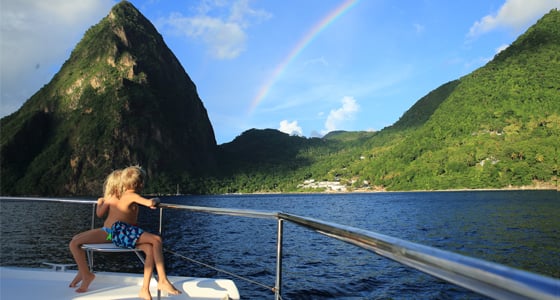 Adventures to seek
There is plenty to do in St. Lucia, especially if you are one with nature. Historic sites and lush landscapes make for swimming, windsurfing, kayaking, snorkeling and scuba diving. A great start to a thrill-seeking vacation is to Zip-line the rain-forest. Fly through a canopy of greenery while gliding across 18 platforms. You won't find a better view than 50 feet above!
Snorkeling is also an option for those water-lovers out there. One of the best snorkeling spots in St. Lucia is Anse Chastanet. Here you can rent gear from the beach's resort and tour the underwater abyss hidden away from crowds of the southern part of the island. Enjoy the exotic sea-life and perhaps a dolphin will join you on your journey! Once you've taken in the island scene your charter journey continues southward to Bequia, Mustique, Mayreau and Tobago Cays for more island treasures.
The Pitons are well known volcanic plugs in St. Lucia. Enjoy a 6-hour guided tour of the mountain and take in the breath-taking scenery trail carved from volcanic stone. You will discover natural beauty and a satisfying date with the wonderful outdoors.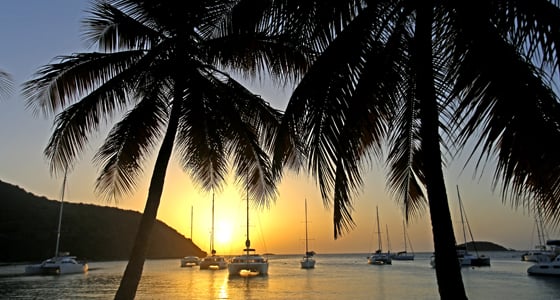 Highlights
Some highlights of St. Lucia include Sugar Beach where you can relax with a cold cocktail and the sun on your skin. For a night of dancing, Gros Islet offers a famous Friday night bash where you can let loose in the middle of the St. Lucia streets. On Pigeon Island you can seek out the ruins and take in a beautiful sea breeze from the sand. If you are a thrill-seeker, check out Sandy Beach and glide across the crystal waters with some kite-boarding lessons. Lastly, Eastern St. Lucia offers a driving journey to the fishing villages as well as hidden waterfalls and lush gardens that deserve to be adored. Decide on a Crewed Yacht? Rum aficionados are welcome to an exciting Martinique Rum Experience. This package is available as an add-on to your St. Lucia Crewed Yacht vacation and includes land excursions, historic factory tours and more. Read more here.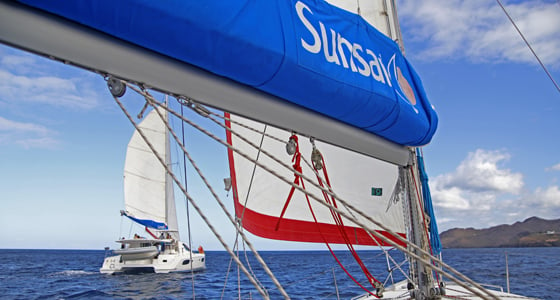 Sample Itinerary
Too many fun options? Don't know where to start for trip planning? Here is an example itinerary to help you get started!
Your journey begins at our base in Rodney Bay. You can enjoy Gros Inlet and also have time to provision your yacht before heading toward Pitons Bay. This overnight journey is one of the most breathtaking in St. Lucia. Beautiful views can be seen from a hike in the mountains or even just lounging on the beach.
Next, we'll continue in the Caribbean Sea where St. Vincent will appear for a nice place to break up the journey. Soon you'll arrive at the shores of Bequia where you can explore the town or head to the Admiralty Bay for an array of outdoor activities.
South from Bequia, the Tobago Cays form a marine park with fascinating wildlife. Sail past the small islets scattered in the ocean between Bequia and Carriacou, anchoring in the sheltered waters of Tobago Cays to explore this unique ocean environment.
If you are looking for a peaceful spot in lush forest and surrounded beaches, a short cruise west will take you to a small island called Mayreau. Explore the island of Salt Whistle Bay on foot to find countless beaches. You can even explore a quaint traditional village in the area.
We will no head north along the island's western coast. When you approach Kearton's Bay, you will find yourself on a beach of black volcanic sand. Stop here to enjoy the scenery and a friendly local cafe for refreshments.
You will then leave St. Vincent and journey back toward St. Lucia. The sparkling Caribbean Sea under your hull will take you through the two islands before tracing toward Marigot Bay. This is one of St. Lucia's most beautiful spots. Here you can enjoy some delicious Caribbean delicacies with the ocean breeze blowing on your skin.