Do you want to travel the world? Being a part of the Sunsail Yacht Ownership program means having access to some of the best sailing destinations on the globe. Regardless of where your yacht is located, you can sail your yacht, or ANY yacht of a similar size anywhere within the fleet at no cost whatsoever! There are around 1500 yachts in more than 15 worldwide bases. Pick your favorite and let's sail away! Today, we'll be taking you to see the exotic beauty of Thailand.
Thailand
One of the many bases of Sunsail Yacht Ownership is the one and only Thailand. The base in Phuket sits in Phang-Nga Bay and offers access to sailing the Andaman Sea. Because Andaman's coast only stretches 450 km, there is only one weather pattern in this area. There are 3 main seasons: cool, hot and rainy season. Cool season is from November – January and the ocean actually heats up during this time. The ocean cools down during hot season which lasts from February – April and rainy season is from May – October. However, despite the differing ocean temperatures, there is no great difference in air temperature. More warm weather = more vacation time!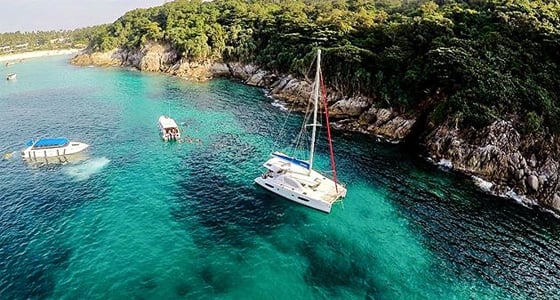 Things to do and places to see!
There are plenty of things to do in the Andaman sea, including shopping, beaches, water sports and sunbathing. Krabi town is 18 km from Andaman sea and is a well-used jump off point for the many islands. Krabi is a relaxing town with ample travel access of all kinds. If you have a taste for Thai food, Krabi town is a must-see destination! However, if you are looking for a bigger beach, Au Nang is a concentrated area with beach access, restaurants, shopping options and souvenir stores! Lastly, a beach option with a more scenic view is the beautiful Railway Beach. Sightseers – get your cameras ready! Railway beach is a delightful treat to the eye. Railway Beach is full of limestone cliffs that make for a picture-perfect photo. Here, you can participate in plenty of activities like snorkeling, diving, rock climbing, jungle trekking and more!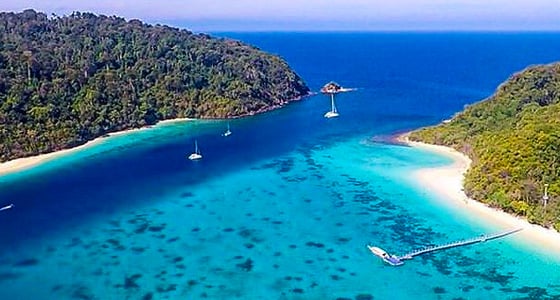 The fun never ends
Whether you're enjoying Thai food in Krabi, souvenir shopping in Au Nang or honeymooning at Railway Beach, the to-do list in Thailand is infinite! Not to mention the many other sights around the Andaman Sea, Thailand is a destination that will keep you hungry to see more. Thailand is just one of the 15 incredible bases Sunsail Yacht Ownership offers, visit our website to learn more.