Holidays On The Water
In the United States, Thanksgiving is officially over, and the streets are starting to be lined with bright shimmering lights. Families are collecting lists of gifts to purchase and coordinating which holiday parties to attend. Schedules are getting busier, and the grocery stores keep running out of hickory honey ham.
Nearly everyone in the United States celebrates this holiday season in some fashion. But when you sail overseas around this time of year, a cruiser will take note it is not always celebrated in the familiar way that they may have been used to; this presents opportunities and challenges to keep the holiday spirit alive.
Drawing Community Together
Stateside, this time of year brings family and friends together. When you're an ocean away, that's not happening unless you fly back. But there is a community out there - the cruising community. Cruisers love to come together, especially in times like this.
Cruisers celebrate the season in many ways. In anchorages where cruisers congregate creates the perfect opportunity to turn a quiet harbor into a big potluck where everyone can make their favorite dishes to share. It may also be on a beach, on one or more boats on a dock, on a raft, or in a restaurant or yacht club. Cruisers are resourceful and will bring everyone together who wants to join the celebration.
Sharing Traditions
One of the best things about the international cruising community is its diversity. You'll find everyone is quick and eager to learn and adapt to any new experience that comes their way. Planning a holiday celebration could start with a few American boats talking about the details, but friends with other flags on their vessels are always invited to join in on the fun. And with them always comes something new, whether it's an amazing new dish or a different perspective on what the season is all about.
A potluck in an anchorage becomes an international affair because the theme is universal, and who doesn't like to get together for a good meal? Some interpretations and understandings may surprise you, but you'll come away richer from sharing our holiday of cheer with international friends. In some places cruisers frequent, like Opua, New Zealand, the Thanksgiving dinner for cruisers grew from an informal celebration for visiting American boats to an annual club event to welcome all cruisers from all countries, with a turkey dinner, potluck desserts, and entertainment from local singing groups.
So whatever your traditions are, be ready to share them and learn some new ones! Discover some of our most popular dishes that are perfect for the holiday season below.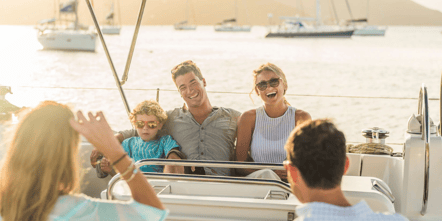 Creamed Onions
1 jar of small white onions in water
1 tablespoon flour
1 tablespoon butter
1 cup milk
Salt and pepper
Directions:
Melt butter in a small saucepan, and add flour to make a roux. Gradually add milk while stirring, and bring to a boil.
Reduce heat, add onions, salt and pepper to taste and simmer until onions are hot, usually only a few minutes. Editor's Note: canned/jarred onions in water may not be readily available abroad. Mild small white onions may be peeled and steamed or boiled in advance instead.
Sharing Challenges
"The Tiki Bar would like to invite all our American friends for a Fourth of July celebration this week, with turkey and all the traditional trimmings," came over the morning cruiser's net in Grenada. It was a lovely sentiment that made everyone smile, but boy, did it underscore some cultural misunderstandings. When you are preparing for your holidays abroad, you may have some explaining to do, whether you're shopping or inviting friends.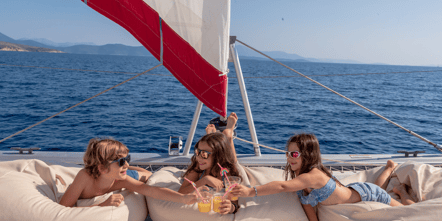 Recipes, Shopping, and Copycat Experiments
Family recipes are an important part of holiday traditions, but foreign groceries and ingredient availability may test the limits of your ability to reproduce Grandpa's turkey dressing. Items commonly stocked in American supermarkets can be hard to find abroad. Spices like "poultry seasoning" may not exist or have an unexpected flavor and makeup. Canned and dried soups can be quite different, even with a similar name.
The lifeline for your holiday dinners is the copycat recipe, which you can find using Google. These recipes use basic ingredients to replicate the taste and texture of branded commercial products. If your great-grandma used a certain brand of pie spice in her apple pie, it's really just a blend of finely ground spices in a certain ratio. With a search of the brand name and a spice grinder, you can come up with something close.
Andouille Cornbread Dressing
Time to prep: 30 minutes
Time to finish: 1 hour 30 minutes
Ingredients:
¼ cup olive oil
1 pound andouille sausage or other smoked sausage, chopped
1 cup chopped onion
1 cup chopped green onion
½ cup chopped celery
½ cup chopped green bell pepper
1 chopped jalapeño
3 tablespoons minced garlic
5 cups crumbled cornbread (2 packages cooked in 8 X 13 dish)
1 tablespoon Emeril's Creole Seasoning
½ teaspoon salt
¼ teaspoon freshly ground pepper
¼ teaspoon cayenne
3 ½ cups chicken broth
6 tablespoons melted butter divided
Directions:
Make the cornbread ahead of time. I make two packages in an 8 X 13 dish, then cut it into 1-inch squares. Put the squares in a 250-degree oven for around 45 minutes, stirring periodically. Once dried, let them cool. After cooling, put them in a gallon ziploc and lightly break them up with a tenderizer.
Heat the oil in a large skillet over medium-high heat and add the sausage. Cook, stirring as needed, until browned, about 3 minutes. Add onion, green onion, celery, bell pepper, jalapeño, and garlic and continue to cook 5 minutes longer, or until the vegetables have softened. Remove from the heat.
Add the crumbled cornbread to a large bowl. Stir in the sausage and vegetables, Creole seasoning, salt, pepper, cayenne and chicken broth. Mix thoroughly.
Brush a 1 1/2-quart casserole, 8 x 8-inch square pan, or 12-inch skillet with half of the melted butter. Drizzle the remaining butter over the cornbread mixture and stir to combine. Transfer the mixture to the casserole and bake in a 425 degree oven for 60 minutes, stirring and scraping the bottom with a wooden spoon to distribute the browned bits and keep it from sticking every 20 minutes, until browned on top.
Original Recipe: https://sailingsymphony.com/2018/11/02/andouillestuffing/
Editor's Note: Andouille sausage, Emeril's Seasoning, and American-style cornmeal or cornbread mix may be hard to find abroad, so include them in your early provisioning if you can.
Planning Ahead
When you know you'll be abroad for the holidays, plan to have the right ingredients on hand. Think ahead and include holiday needs in your provisioning.
A few of the items that may be impossible to find include:
Canned pumpkin for pies. "Pumpkin" in some English-speaking countries may refer to any variety of squashes, so asking for help may not get you what you expect.

Cranberry sauce and cranberries.

Spice mixes, including poultry seasoning and pie spice blends.

Prepackaged and prepared ingredients, like specific brands of canned and dried soups. For example, Maggi onion soup, available in many countries, does not taste the same as Lipton in recipes.

Specific types of sausage or prepared meats. There will be local sausage everywhere, but taste it well before the holiday to be sure it will work.

Canned fried onions.

Whole, uncooked turkey.
Dry and canned goods are easy to stow but think twice before putting a turkey in the freezer. Many countries have stringent biosecurity laws, and it would be a shame to carry a turkey across thousands of miles of ocean only to have it confiscated when you clear in. Check the regulations before you stock up on any meat, whether preserved, fresh, or frozen.
With a bit of planning and a lot of community, you can expect a holiday season that's as warm and welcoming as any you had back on land.